Custom Compression Garments, performance with the look
Posted on January 22nd, 2016
Custom Compression Garments, performance with the look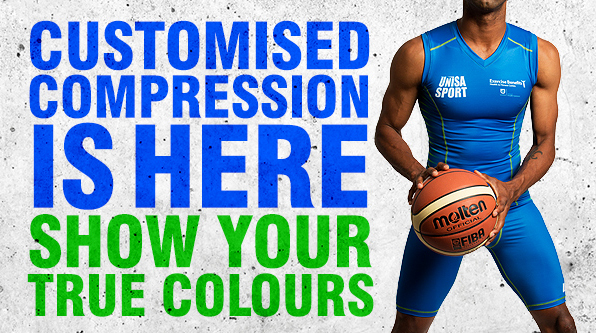 We are pleased to announce through our association with Blackchrome Sportswear, that we can now supply fully customisable compression garments to our customers. With many sports now insisting on compression garments matching the team, game day uniform, it has become even more important that compression garments are customisable to meet both performance and regulation requirements.
Even if your sport doesn't require matching compression garments, there is nothing more impressive than to have the team make a statement with a garment that compliments the rest of their uniform.
So what can be done with these that other compression garments can't?
Most other decorated compression garments are manufactured in bulk and any customisation is applied afterwards, usually with heat applied vinyl transfers. These transfers, in time, tend to fade, crack and peal due to the high stretch factor in the fabric. With our garments any customisation is done during the manufacturing stage. As a digitally sublimated garment you have the freedom to use unlimited colours and creative flexibility to create unique branded compression gear. Adding sponsors is a breeze with none of the degradation of vinyl transfers. You can even choose from a range of coloured flat seam stitching for that extra wow factor.
So what are they made of?
Our compression garments are made from TACT (Targeted Active Compression Technology). This fabric has been vigorously trialled and tested at UniSA and has been found to be the ultimate fabric for teams that want the benefit of a compression garment to match their club or team colours. Throughout the testing phase the TACT fabric was extensively tested for Performance, Durability, and Graphic quality. The research and development process took around 18 months of hard work with many different fabrics and fabric constructions and weights tested until TACT was developed.
What are the Benefits of Compression garments?
The benefits of compression garments are best summed up in an article in the Sports Coach written by Lee Wallace, Katie Slattery and Aaron Coutts
"Based on current research findings, listed below are potential areas where a competitive advantage may be gained through the use of compression garments:
enhancing blood circulation to peripheral limbs
reducing blood lactate concentration during maximal exercise bouts
enhancing warm-up via increases in skin temperature
increasing vertical jump height
improving repetitive jump power
reducing muscle oscillation upon ground contact
increasing torque generated about joints, improving performance and reducing the risk of injury, for example, assisting the eccentric action of the hamstring at the end of the swing phase in running
enhancing recovery following strenuous exercise by aiding in the removal of blood lactate and improving subsequent exercise performance
reducing the effects of delayed onset muscle soreness in the days following strenuous exercise
Increasing feelings of positive leg sensations both during and following strenuous exercise."
Read the full article here.
What Styles are Available?
Currently we have an extensive range of styles in Men's, Ladies and Youth sizing with the anticipation that further styles will be added in time. The styles available at the moment are Singlets, long sleeve Tees, Shorts, and Tights. With this extensive range, you will have plenty to choose from when branding your team's compression uniform.
If you are looking for quality Custom Compression Garments that maintain performance while looking awesome, don't get left behind contact Gary to discuss your team's requirements.
Gary Knight | Managing Director
Raptor Group Pty Ltd
0749260700